Sunday, March 7, 2010
I haven't checked my email since yesterday morning and when i checked it today I find I won two different giveaways!!! This makes me so happy!!
Here is what a won;

A Professional Flat Iron!





From Heck Of A Bunch!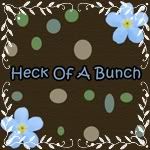 And I won A set of 20 Cards by BN Designs!





From Tic Tac Dough


So, needless to say I'm excited! I love to win!
-Misty